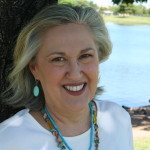 Teresa Blythe is an experienced public speaker and educator. She is Director of the Hesychia School of Spiritual Direction, a training program with four weeks of teaching a year, and has keynoted for a number of organizations including the Presbyterian Media Mission and Ecumenical Stewardship Center.
Teresa offers the following presentations to groups, organizations and churches:
Spiritual Direction 101 —  a 45 minute overview of what the practice of spiritual direction is all about and how exploring your spiritual path with a trained guide can  be a powerful and life-affirming experience.  FREE
Many Ways to Pray – a 2-hour interactive presentation based on Teresa's popular 50 Ways to Pray book, helping people discover prayer practices that might work well with their personality type.  $300.00
Spiritual Discernment: Faithful Choices for a Deeper Relationship with God – a 2 hour interactive presentation on the Christian tradition of discernment and how discernment principles can deepen one's faith experience.  $300.00
Conflict Transformation for Spiritual Growth –  a 2 hour presentation on the practice of conflict transformation. Participants will go through a short process of conflict resolution on a conflict currently in their life to learn the process and principles firsthand.  $300.00
Think on These Things: Cognitive Behavioral Tools for Spiritual Growth – a 2 hour workshop on ways to overcome anxiety and negative thinking so that the joy God wants us to have is complete in us.  $300.00
Preaching — Teresa also offers supply preaching on topics of Christian spirituality.  $150.00
Contact Teresa at 520-971-4724 for more information about these offerings.