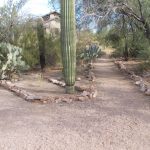 Discernment is a spiritual practice that calls your whole being–mind, body, heart and soul–into the process of making life choices. Ideally, discernment becomes a way of life so that every significant choice you make is in alignment with your spiritual path and the relationship you have with the Source of Life.
Spiritual directors are trained to assist people, groups and organizations in discernment. I can help you individually with a discernment question or I can facilitate a group of people you select in a process known as a "Clearness Committee" designed to help you become clear about your options and where you feel the Spirit is leading you.
I also work with committees, boards and other leadership teams as they face important crossroads and seek discernment assistance.
Contact me at 520-971-4724 or teresa@teresablythe.net for more information.