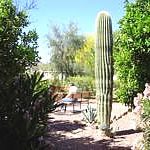 There are many wonderful programs that teach you the basics of becoming a spiritual director. I'm particularly fond of the one I run, Hesychia School of Spiritual Direction in Tucson, AZ. The Hesychia School is a 4-week formation program offered once a year at the Redemptorist Renewal Center, a gorgeous residential retreat facility adjacent to the Saguaro National Monument West in Tucson, Arizona.
The word "hesychia" means "watchful, inner stillness and silence." We call our school Hesychia because we teach a form of contemplative spiritual direction that evokes from the directee the kind of still watchfulness that helps them discover God's desire for their life.
The Hesychia School includes classes on prayer, discernment and contemplation, self-care and ethics, and over 30 hours of practicum–a class where spiritual direction skills and sensibilities are taught and supervised. We include an entire week on Interfaith spiritual direction, where we learn about spiritual guidance in traditions such as Islam, Judaism, Hinduism and Buddhism. We also teach a class on how to be in spiritual direction with mystics who defy tradition and seekers who are "spiritual but not religious."
I serve as the director of the Hesychia School and would be delighted to answer any questions you have about our program. You may call me at (520) 971-4724 and email me at teresa@teresablythe.net.
Many important details about the Hesychia School are on the web. Click here to read more.